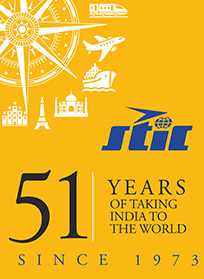 Airline Sales, Marketing and Management
Under this division, STIC provides airlines with a comprehensive suite of services covering all aspects of sales, marketing & operations. Some of the key services provided are as follows:
Market feasibility studies
Product analysis
Sales function: Field sales, Regional Sales presentations, Inside Sales Support
Reservations: Establishment of City Offices, National Reservation Centres.
Cargo: Sales & Operations related to Air Cargo & Freighters
PR & Marketing
Government Liaison
Administration Activities
Airport Support
Back Office Support: related to BSP Reconciliation, tax, and fare audits
As GSA for various airlines in India, STIC has structured dedicated offices and teams for all airlines that are online in India. For offline airlines, STIC has dedicated product teams located in STIC offices across India. Each team works in consultation with the airline head office and STIC senior management in executing sales, marketing & operational responsibilities. The team targets travel agents & other intermediaries in the marketplace along with corporate houses and other niche customer segments.