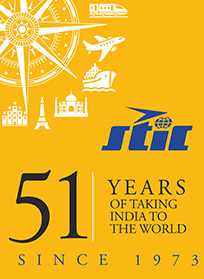 Overview
Established in 1973 and inaugurated by the then Minister of Civil Aviation & Tourism (Honourable Dr. Karan Singh), STIC has today become one of the largest travel groups in India with offices in all major cities across the country. It represents about twenty of the world's best travel, aviation, tourism, cruise and hotel brands exclusively in India, and is focused on bringing the best of the world to India's doorstep.
With its head office in Delhi, STIC Travel Group's vast network of offices practically covers every corner of India. Backed by trained travel professionals across various divisions and supported by the latest technology, it has the resources to offer seamless travel marketing solutions.
Industry captain and our Chairman -
Subhash Goyal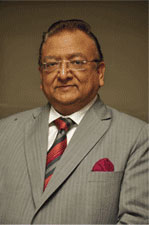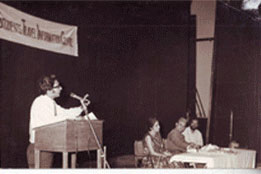 Mr. Subhash Goyal, Chairman addressing the gathering on 14th September, 1973.
Seated from Left to Right
Mrs Ambika Soni, Dr. Karan Singh, Prof. Bhim Singh


Our Chairman, Mr. Subhash Goyal has not only steered the company to its present position of strength and emerged as a capable business leader but has expanded his area of operation to work for the entire travel industry. The Industry too has in return reposed trust in him by offering him numerous forums and platforms to espouse industry concerns.
Today he is counted among the travel fraternity's foremost spokesperson. Over the past years he has served the industry in various capacities and at present also holds many important positions in government and industry's associations.
Member - National Tourism Advisory Council, Ministry of Tourism, Government of India
Hony. Secretary – Federation of Associations in Indian Tourism & Hospitality (FAITH)
Chairman – Tourism & Services Sector of Federation of Indian Export Organizations (FIEO) set up by the Ministry of Commerce, Govt. of India.
Chairman – Assocham Tourism & Hospitality Council
Chairman – Expert Committee on Civil Aviation & Tourism Committee of the Indian Chamber of Commerce & Industry (ICCI)
Hony. Secretary General for Indo Latin American Chamber of Commerce
Immediate Past President - Indian Association of Tour Operators (IATO)
President – Confederation of Tourism Professionals
Non-official Director in the Board of Delhi Tourism and Transportation Development Corporation Ltd. (DTTDC)
Author of a book entitled "Poverty Eradication & Economic Development Through Tourism"