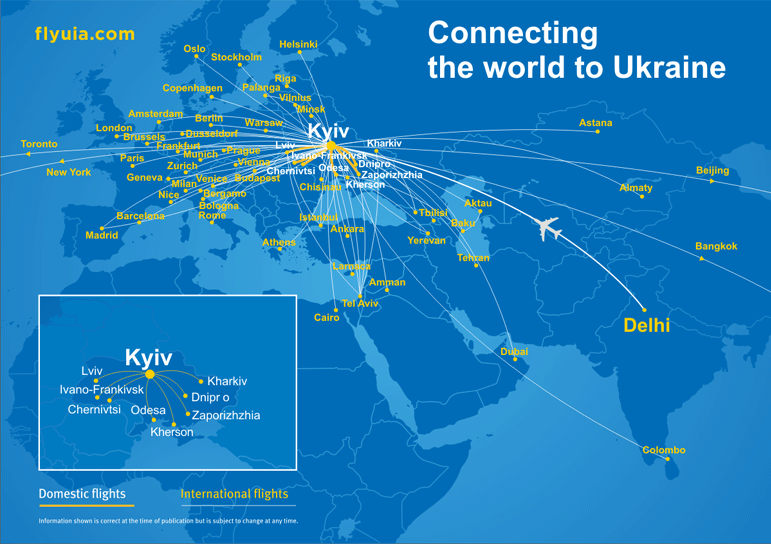 + Enlarge
Profitable, reliable, safe - Ukraine International Airline is the leading carrier operating flights from Ukrainian cities. UIA has been in service since 1992 and has interline E-ticketing agreements with Air France KLM, Austrian, Qatar Airways, Singapore Airlines, & Finnair.
*EFFECTIVE 01MAY2018 UKRAINE INTERNATIONAL AIRLINE WILL BE COMMENCING NONSTOP FLIGHT BETWEEN KIEV AND DELHI*.
1. Direct Connectivity to Ukraine
From India to Kiev : Travelers can fly Jet Airways / Air India and SriLankan Airlines to Dubai & Colombo and onward on UIA to Kiev and other domestic destinations in Ukraine. The special UIA NETT through fares to Ukraine in combination with these Airlines, offered to the travelers, are extremely competitive.
From India to Europe : From India to Europe: Travelers can fly upto Kiev and then onward to any European Destination via KBP on UIA and the travelers can get a through check-in up to Kiev or onword destination too.
Nett fares from major cities - DEL, BOM, MAA, HYD, BLR, TRV & COK. Travellers can fly via Europe too, on any airline upto Europe and then onward to Kiev on PS.
2. Airline on BSP
Airline on BSP, E-Ticket savvy and offers Interline NETT fares in combination with Air India, Jet Airways & SriLankan Airlines.
3. Extensive Route Network
UIA connects with 38 countries in Europe, Asia, America, Africa, CIS and the Middle East. The carrier operates 1100 international and domestic flights weekly and provides connections with partner airlines' services to over 3000 destinations worldwide.
Major International destinations include:
Europe: Alicante, Amsterdam, Athens, Barcelona, Berlin, Bologna, Brussels, Dusseldorf, Frankfurt, Geneva, Helsinki, Chisinau, Larnaca, London (LGW), Madrid, Milan, Munich, Nice, Paris, Palma de Mallorca, Prague, Riga, Rome, Stockholm, Valencia, Warsaw, Venice, Vienna, Zurich.
CIS: Almaty, Astana, Aktau, Baku, Yerevan, Kutaisi, Minsk, Tbilisi, Vilnius
Ukraine:Kharkiv, Chernivtsi, Dnipropetrovsk, Ivano-Frankivsk, Kyiv, Lviv, Odessa, Vinnitsa, Zaporozhye.
Middle East:Amman, Ankara, Bangkok, Colombo, Dubai, Istanbul, Teheran, Tel Aviv & Beijing.
USA/Canada: New York, Toronto.
4. Europe's Preferred Airline
UIA utilizes the best technology and management methods.
Airplanes are serviced by UIA's own Technical Maintenance team.
UIA became the first airline in the Commonwealth of Independent States (CIS) to be certified under the IOSA program and hence it is the Safest Airline in Europe as the (IATA Operational Safety Audit) program verifies full conformity with the most stringent operational safety requirements.
UIA offers best same-day connections to European destinations at competitive prices.
* Subject to govt. approval.
For any information, please contact:
uia@sticgroup.com