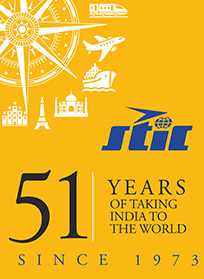 Career @ STIC
Why STIC
Life at STIC is a joy of discovering what you were born to do. To ensure that, we always encourage a healthy work-life balance and make work a life experience for all our people. It is what gives us an edge, and creates agility untouched by any other Company in our industry.
Our Team
We at STIC are a combination of smart, creative, passionate people who are together with a mission to provide excellent services and give the best value for money to travelers across the globe.
Career @ STIC
Being one of the largest organizations in aviation and tourism space, STIC is always in need of smart, experience and hard working professionals. Check the current openings below. If you did not find a suitable role, don't hesitate to drop us your CV at hr.coord@sticgroup.com along with a short write up (not more than 100 words) on why do you think STIC should hire you.

Executive / Senior Executive – Air Sales (Ahmedabad, Hyderabad, Kolkata, Bangalore, Goa)
Sales Visits and regular follow-up with Agents / Corporate
Distribution of product information among Agents / Corporate
Company presentations and/or sales pitches to Agents/Corporate
Market research about competitors
Market research about General industry trends • Generate sales opportunity / leads
Sales planning
Devise strategies to achieve periodic targets
Prepare periodic sales reports (e.g. DSR, WSR etc.) and submit to Head Office through MIS
Handle group queries with support from Operations / Head Office Personnel
Skills
Airline Sales with minimum of 2 years of experience
Must be a diligent worker having strong co-ordination abilities
Strong interpersonal and networking skills
Excellent communication and presentation skills

Executive/Sr. Executive – Reservation and Ticketing – Chennai, Gurgaon.
To control all the reservation functions including ticketing and follow-ups
Clearing up of waitlisted passengers
Stick to the time limit guidelines
Follow up & Reconfirmation of PNR's and inform agents / Passengers accordingly
All tickets to be thoroughly checked in respect of fares/codes before being given to the agents/clients
Liaison with Travel agents for Reservation & Ticketing
Ensure that latest travel industry trends knowledge is acquired
Ensure that each customer is well received and serviced with minimum possible waiting time
Ensure that the ticketing Stock is properly maintained and in safe custody.
Ensure that the excellent relations are maintained with all customers and airline principals
Cash and credit transactions are reported to the accounts on a daily basis
Arrange prompt and reliable reservations for passengers and ensure accuracy of fare calculations
Ensure all reports and returns are forwarded to head office as per the policy
To ensure receipts of payment on time
Ensure all jobs pertaining to the counter is done on time
Ensure no credit is given in the market without the proper authority
Checking the coupons and their documentation on daily basis
Skills
Graduate with a working experience in International Reservation and Air Ticketing with minimum of 4-12 years , preferably from an Airline background or an IATA travel agency.
Must be a diligent worker having strong knowledge in GDS and should be well versed with ticketing command.
Excellent communication and written skills.
Must be proficient in taking reservation calls and handling customers on phone.

Asst Manager/Manager – Non Air Sales – Ahmedabad, Chennai
The primary responsibility of this role is to promote/sell the STIC non-air GSA products which include Saltours International, Europe car, Cruises and Outbound Holidays.

The duties will include:

B2B Sales (IATA/ Non IATA Agents/ Tour Operators/ MICE Agents and Freelancers) for Non Air Products in assigned territory.
Increasing the market share / penetration for all Non Air Products in the assigned territory.
Maintain good relations with the business partners (Travel Agents) and make regular sales visits and presentations to the business partners in the assigned territory.
Keep all the regional business partners updated with latest information about the product and the promotional offers.
Responsible for targeted Revenue achievement.
Responsible for planning and coordinating the Product related Marketing Activities in given region by working closely with the travel agents' associations and different segments in the market.
Sales reporting and MIS as required by the Sales Support Department.
Skills
Consistently meet the defined sales targets through effective planning and budgeting on Monthly/Quarterly/Yearly basis
Develop and execute new Sales Programs
Acquire new business and Increase the market share for STIC in Assigned Location
Percentage targets achieved
Ensure timely collection of payment from all vendors and update records accordingly
Minimum 3-7 yrs in Non air sales.

Head Sales - Airlines – Gurgaon.
The Travel National Sales Manager has the responsibility for the sales and delivery of the following groups: GSA (both prospects/pipeline and current Online & Offline GSA contacts) and Branches (offline GSA, Non-Air GSA, Corporate Sales and Retail sales). The duties will include the following activities for all the groups mentioned above:

Develop and execute sales target for each products:

Work closely with Principals for achieving targets in performance territories
Manage sales coordination activities executed by the sales coordinator and analyst
Define overall marketing, branding, positioning and product strategy for the STIC
Travel group in consultation with MPD team and other SBU leads
Increase the market share / penetration across all sales territories in the country:
Represent and build network with the Travel Agents across all the sales territories
Design offers for promotion of specific product categories and/or pushing products through specific channels, in consultation with MPD team
Look for new business avenues for STIC Travel group at National and Regional level:
Represent STIC Travel group in important events & trade meetings
Strategize new product development and modifications to existing products according to changing market trends and competitive landscape
Comply with company policies and codes of conduct while carrying out the key activities:
Encourage environment conducive for growth and learning across entire sales function
Ensure effective induction for all sales team members
Define annual budget for travel national team including all conveyance, entertainment and travel allowances and expenses in consultation with HR, Finance and other SBU leads
Objectives of the role/KPI
This role will be measured by successful achievement of the following results: # Quantitative and Q Qualitative.

Financial:

# BSP Sales of all GSA Airlines – Target 40% increase
# Net Sales of all Non-Air GSA Products HAL/WHG/WDW/SLHO –Target 50% increase
# Counter sale including Corp & Retail – Target Maintain
Budget compliance – 90% Compliance
Customer:

# Customer Retention 100% (GSA Partners)
# Customer Reward – 2 per annum
# Customer target in Trade Customer (80% retention and 20% additions)
# Customer target in Corporate Clients (90% retention and 40% additions)
Q Create new mechanism for measuring customer satisfaction in the different segments. Target: 75% satisfaction
Process:

# Sales Force Management - 100% report tracking and monitoring
Q Policy compliance 100%
Q BCG Revision and Enforcement for all sales roles
Attrition of employees < 10%
Learning:

# Role definition & empowerment for all TN Roles
# Conduct 6 workshops for sales effectiveness and product training
Q Facilitate monthly knowledge sharing sessions for all BMs/TN-TLs
# Attending 1 training sales and 1 leadership workshop
Authority
Financial:

<=Credit up to 10 days beyond due date (formula to be provided by Finance)
Budget execution for sales promotion and overall business development.
Contractual:

Authorized to enter into sales contracts with channels partners as per standard T&C
Authorized to negotiate customer agreements contracts of existing partners.
Managerial:

Leave approvals/rejection for TN team
Recruitment of Sales Force as per budget and policy.
Budget Responsibility
Formulation, monitoring and control of Travel National Sales and Business Promotion budgets
People Responsibility
Managing the team of Sales and Sales Delivery for entire Travel National Group
Minimum Qualification

Minimum 10 years of experience in a similar position in a Travel / Hospitality company
Proven track record of leading the national sales force of a travel company
MBA from a premier institute
Leadership: a demonstrated ability to lead people and get results through others
Planning: an ability to think ahead and plan over a 1-2 year time span
Management: the ability to organize and manage multiple priorities
Strong interpersonal and networking skills
Excellent communication and presentation skills
Commitment to company values

Role and Responsibility:
Liaising with external regulators and advisers, such as lawyers and auditors;
Well versed with Companies Act, 2013
Draft and review various commercial contracts and agreements required to support the entities business and operations
Review and manage all existing contracts, agreements and or any other documentation entered into by entity
Advise the management about the statutory changes affecting the entity
Regulatory and contractual compliances
Legal writing & replies to legal notices from various government departments
Maintaining statutory books, minutes books etc;
Developing and overseeing the systems that ensure the company complies with all applicable codes, in addition to its legal and statutory requirements.
Contributing to meeting discussions as and when required, and advising members of the legal, governance, accounting and tax implications of proposed policies;
Preparation & filing Annual Returns and necessary documents in Registrar of Companies, Company Law Board.

Sales Exec/Sr. Exec - Tours: Kolkata
The primary function of this role is to promote/ sell outbound tours & cruises. Main focus is to handle queries related to Outbound Tour products, Cruises, Wyndham Hotel Group and Car Rental. The duties will include:
Managing operation, product development and contracting for outbound tours.
Taking care of all branches of India for operation which is centralized in Gurgaon.
Sourcing of Rates from different suppliers & Coordinate with Branches.
B2C, B2B international sales and Operations.
Air Ticketing, Hotel reservations, Visa Assistance and hotel package selling
Booking hotels and services with Overseas Suppliers & maintaining proper coordination with them in order to provide hassle free operation.
Product Development - Getting the website posted with latest offers and new outbound products.
Act as contact point for all B2B clients & interactions on key focused commodities
Manage client expectations for all tour requirements and ensure smooth operation.
Lead contact for all clients, International supplier interactions, negotiations and sourcing etc.
Knowledge of different outbound destinations
Experience in designing international itineraries/vacation packages
Handling a team of Executives and Sales Personnel
Managing International suppliers and hotel relationships.
Monitor key vendor performance
Ensure All related contracts are signed and in Order.
Overseeing arrangements such as hospitality, facilities of conveyance, venue booking, etc.
Liaising with Agencies and various Departments to ensure smooth flow of work.
Ensuring all the activities are performed on time without any discrepancies.
Booking venues and coordinating with different Operators to facilitate programs for guests.
Assisting in the preparation of Itinerary; collecting all the possible information for the manual to catch the eye of interested guests.
Facilitating description of the programs in line for passengers and taking feedback from them at the end of all programs.
Maintaining coordination with local agents, hotels, airlines and the head office of the company.
Responsibility as a brand ambassador of the company while dealing with passenger on tour.
Maintaining proper balance with all service providers at any destination on tour.
To solve any grievances or problems of the passengers on the tour on behalf of the company.
To satisfy the customer's needs on tour.
To co-ordinate with local travel agents, hotels, transport operator and guides.
To build repo with airline offices, hotel staff and local people.
To provide smooth services to the customers on behalf of the company
To balance the cost & profit of the company while providing services to customers.
Objectives of the role/KPI
1. Revenue Generation and Business Development:

a. To increase the sales of all STIC outbound products
b. Sign Corporate contracts for Business generation – as and when required & ensure all are in order
c. Managing complete end to end OBT operations & sales
d. Prepare periodic Tour Query reports (e.g. DSR, WSR etc.) and submit on regular basis
e. Focus on generating awareness about the STIC Travel Group through product development, e-mailers & brochures to B2B & B2C clients
f. Managing international suppliers & hoteliers for sourcing the rates & sharing the same with the branches
g. Taking care of all branches on India operations which is centralized in Gurgaon
h. To balance the cost & profit of the company while providing services to customers
2. Distribution and Market Penetration:

a. Telesales of the outbound products to maximize the sales.
b. Prepare Product presentations and/or sales pitches (in consultation with Product Manager) and delivering them to Agents/Corporate Houses
c. Constant follow up with the agents on regular basis so that they are updated with STIC products & encouraged for sales
d. Adhere to STIC Travels Pvt. Ltd. policies and code of conduct while carrying out the responsibilities
e. Act as point of contact for all B2B clients & interaction on key focused areas
3. Brand Awareness and Customer Support:

a. To update the clients on latest offers by regular mailers, website updates, brochures & other marketing kits
b. To provide smooth services to the customers on behalf of the company.
c. Facilitating description of the programs in line for passengers & taking feedback from them at the end of all programs
d. To solve the grievances or problems of the passengers on the tour on the behalf of the company
People Responsibility
A team leader role & will play essential role for key performance areas of the team.

The primary function is to strategize, design and deploy all initiatives to promote sales of current Non Air products in the assigned territory. This role will also be responsible for all strategic, operational and administrative issues of this territory and Profit & Loss (P&L) account of the branch. The incumbent will be responsible for maintaining relationships with the suppliers and Corporate & Retail clients. All people management activities of the branch also fall under the ambit of this role
The duties will include:

Business development & Sales Planning in consultation with Top Management.
Distribution of product information among Agents / Corporate Houses to help generate Sales.
Devise strategies to achieve periodic Sales targets
Prepare periodic sales reports (e.g. DSR, WSR, P&L report, etc.) and submit to Head Office through MIS.
Delegation of duties and responsibilities among the branch executives
Customer relationship management
Administrative control over the branch
Regulation of credit control to Agents/Corporate/Retail Customers
All crisis management activities at the branch (related to both clients and staff)
Fulfilling various Head Office (HO) requirements (e.g. outstanding debtors report, Punctuality report, Cash Verification report etc.)
Rate negotiation with service provider (airline / Hotel / Transporters)
Supervise and control sales conversions
Maintain profitability of the branch
Building PR with principals (Airline / Hotels / Agents / Transporters)
Regular market research to keep track of the market and competitive trends
People Management including recruitment and selection etc.
Responsible for creating a congenial work environment at the branch and leading various team building initiatives
Responsible for training of the branch executives about the new and existing STIC Travel Products/Services, new promotional schemes for the suppliers etc.
Adherence to STIC Travel group's policies and code of conduct while carrying out the responsibilities.
Objectives of the role/KPI
This role will be measured on achieving successfully the following results:

Financial –

Branch profitability
Increasing market share
Cost control / effectiveness
Percentage targets achieved
Customer –

Client Retention Rate
Customer feedback and complaints about the branch dealings
Process –

Attrition rate at the branch
Timely fulfillment of HO requirements (such as submission of reports / information etc.)
Compliance of business activities with marketing policies
Timely submission of reports and accuracy of information contained in the reports
Effective market coverage
Number of visits to the out-station branches
Budget Responsibility
This role is responsible for the marketing budget including all expenses related to the execution of the activities described above (sales and marketing, travel and conveyance, training and development, etc.)
People Responsibility
This role is responsible for the entire team working in the respective branch namely Team Leader, Sales Executives (Travel Consultants), Office attendants and Branch Accountant.

Sales Exec/Sr. Exec - Offline Airlines: Gurgaon
B2B sales for offline airlines
Should know all the deals being offered in market
Agents list to be prepared on category basis
Maximum acquisition of market information in respect of policies/sales.
Ensure no credit is given in the market without the information of the immediate supervisor
Maintain relationship with the existing clients, while developing steady growth in the sales
Conduct sales calls to the travel agents, tour operators, interliners and commercial accounts
Act as an effective communication channel between travel agents and the company
Professionally promote company's product and services
Identify areas of company's product which needs improvement through market feedback
To ensure receipts of payments on time and follow up with agents incase of outstandings/disputes if any
Any other duty as assigned by any superior from time to time.
Don't see the position you were looking for?
Send us your CV with a cover letter to: hr.coord@sticgroup.com