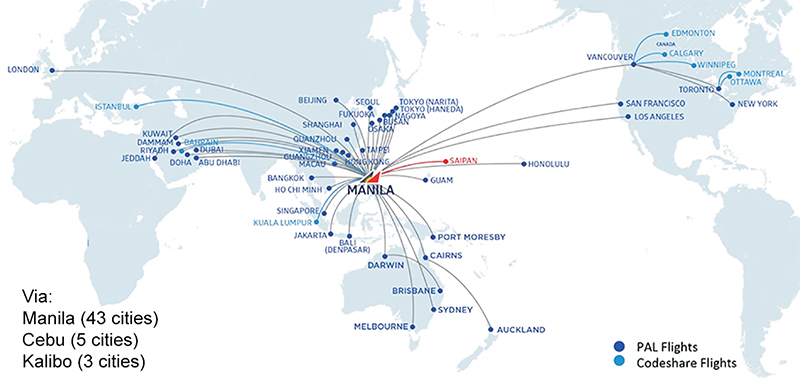 + Enlarge
Philippine Airline is in existence since 1941 & flies to 73 worldwide destinations. PAL has become one of the most respected airlines around the world with a young and modern fleet of aircraft and a route network that spans 43 foreign cities and 30 domestic points.
How to Sell
All International fares uploaded on GDS are commissionable
Special nett seamen fare
Adhoc group fares available on request
Special Point to Point & students fares available on GDS
Excess baggage for students
Salient features of Philippine Airlines
Philippine Airline allows two piece of baggage for USA, CANADA passengers
One piece each for 32kg in Business class
One piece each for 23kg in Economy class
Connectivity to 35 major International destinations via Manila
30 Domestic Destinations within Philippines Bacolod- BCD, Basco BSO, Busuanga–USU,, Butan BXU, Catarman- CRM, Calbayog- CYP, Cagayan De Oro- CGY, Cebu-CEB, Cotabato CBO, Davao- DVO, Dipolog DPL, Dumaguete DGT, General Santos GES, Iloilo ILO, Kalibo KLO, Laoag LAO, Legaspi LGP, Manila- MNL, Caticlan- MPH, Masbate- MBT, Ozamis OZC, Ormoc-OMC, San Jose-SJI, Surigao- SUG, Puerto Princesa – PPS, Roxas RXS, Tacloban – TAC, Tagbilaran TAG, Tuguegarao-TUG, Naga-WNP, Zamboanga–ZAM
Preferred airlines for Corporate, MICE and Leisure travelers to World Wide PAL destinations
Following destinations available on Philippine Airlines:
USA – San Francisco, Los Angeles, Honolulu, Las Vegas, Guam || Canada – Vancouver || Hong Kong || Singapore || Thailand – Bangkok || Australia – Sydney, Melbourne, Cairns || Japan – Tokyo, Osaka, Fukuoka, Nagoya || China – Beijing, Xiamen || Korea – Seoul and Pusan || Vietnam–Ho Chi Minh City || New Zealand – Auckland || UK - London
The modern fleet comprising of 38 self-owned aircrafts with a two cabin configuration- "Mahubay" as Business and "Fiesta" as Economy.
Launched in 2002, Mahubay Miles, is the frequent flier programme of Philippine Airlines.
Free-Visa on Arrival for Indian National holding valid visa to either US, Canada, Australia, Schengen, Japan, Singapore, UK or permanent residence permit.
For any information, please contact:
pal.sales@sticgroup.com