Air Madagascar - Customer-Oriented, Modern, Reliable and Profitable Airline, is the national carrier of Madagascar. It has been in service from last 55 years. Air Madagascar covers a network of 02 long-haul destinations: Paris, Marseille, 05 regional destinations: Reunion, Mauritius, Comoros, Seychelles and Mayotte & 11 domestic destinations. The Airline serves main cities such as Tamatave, Fort-Dauphin and Tulear, as well as major tourist cities of Nosy Be, Diego Suarez or Sainte Marie.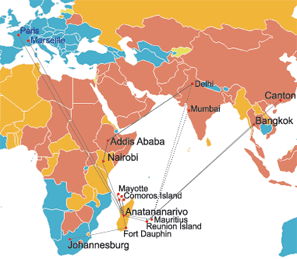 + Enlarge
Why sell Air Madagascar (MD)?
"Visa for Madagascar on arrival" for Indians is free for stay of less than one month
Fares are commissionable to Travel Agents.
MD operates direct flights to Tana (TNR) from the convenient gateway cities like Mauritius and Paris.
MD direct flights operate between Tana and Paris/ Marseille.
Honeymooners Paradise: The World's Best White Sand beaches at Nosy Be, Fort-Dauphin, Tulear.
Competitive Commissionable MD Fares for Travel Agents available on GDS
a. Paris to Tana (TNR)
b. Special Promotional fares RUN-SMS-RUN

Air Madagascar has extended offers through flights operated in code share with its partners :
a. Partnership with Air Mauritius allows 06 weekly flights between Antananarivo and Port Louis.
b. Partnership with Air Austral allows daily flight between Antananarivo and Saint-Denis.
c. Partnership with Air Seychelles allows services to Mahé- Seychelles.
Why fly on Air Madagascar (MD) ?
MD has competitive fares for all destinations on GDS.
Special Group fares can be requested in advance.
For Air Madagascar, the safety and well-being of its customers are its top priorities. In line with the reliability policy, Air Madagascar is PART-145 aeronautical maintenance certified by the European civil aviation authorities including A340 type line maintenance.
Generous baggage allowance - 2PC x 23Kgs in Economy Class & 20 kg for passengers on Domestic flights.
Air Madagascar has signed code share agreements with the following partner airlines: Air Mauritius, Air Austral & Air Seychelles
Air Madagascar is IOSA Certified
IOSA certification is obtained following a series of IATA audits of airlines. These audits cover almost one thousand items related to airline operational safety, including flight operations, both on board and ground operations, operational control, maintenance and engineering, the management system, freight management, etc.
The airline is IOSA certified since December 2007.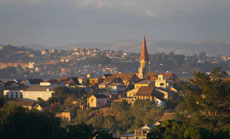 Antananarivo: 
The Malagasy capital is proud of its history and its inheritance. Antananarivo, « Tana » is the City of the Thousand gradually becoming the City of the Million! Tana will always remain unavoidable for tourists with unequalled shopping opportunities, varied and quality cuisine, cultural life, architecture and history...all these fascinating activities can be done in a single place.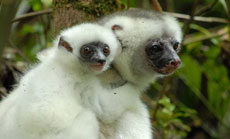 Marojejy:
 The spectacular sight of the crystalline rivers and the beautiful cascades are worth a visit. In the tropical forest. Silky Propitheque and mysterious Ayе-aye. endemic palm trees, sisal plants and the plant Dinosaur or Tahktajania perrieri make the joy of the botanists.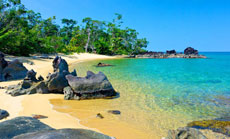 Masoala: 
Is the only place in Madagascar where the tropical forest meets the sea. The imperceptible red Vari lemur and the eagle serpent eater are found. The humpback whales while migrating towards Bay of Antongil can be seen on the gilded beaches of Nosy Mangabe, specially during July-September.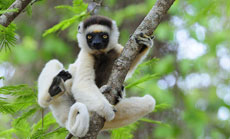 Zahamena:
 Has forests spanning across 70kms and have approx 112 avian species and 13 species of lemurs, of which Prophitecus diadema is quite popular species.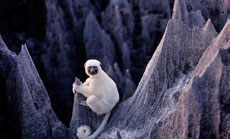 Tsingy De Bemaraha:
 Is classified among the sites of the World Natural Inheritance since 1990. Tsingy offers the most spectacular landscapes comprising of Large Island Rocks made of limestones.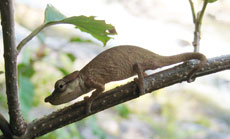 Ranomafana:
Has tropical forest where species of lemurs, rare species like Hapalemur aureus and Hapalemur simus are found. Ranomafana is also a paradise for the ornithologists with its 114 species of birds.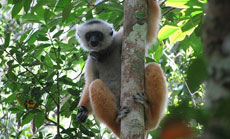 Andringitra:
 Is ideal for the amateurs of high mountain. Culminating to 2658 in the peak Boby d' Imarivolanitra is the most accessible from Madagascar. More than 100 species of birds are visible in this park and from Nov until March, wild flowers and terrestrial orchids can be seen.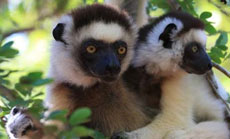 Andohahela:
gathers three different worlds in the same park. You pass there from the wet forest of the East to the thorny bush of the South in a few kilometers, while crossing a zone of very original transition. Fauna and flora adapted there to the ecosystem of the area, and it is remarkable to see Sifaka Verreaux there to leap of thorny Al to the other, without being wounded.
For any information, please contact:
airmadagascar@sticgroup.com